Solar Energy At Our South Jersey Business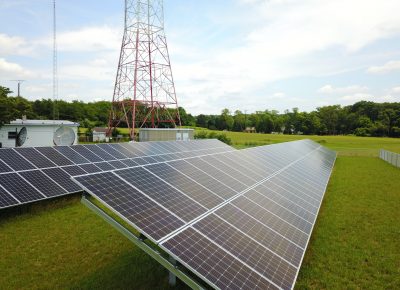 In collaboration with National Energy Partners, Quinn Broadcasting has installed a ground-mounted solar system at our headquarters in Bridgeton, NJ. This is just one of our efforts to reduce our negative environmental footprint.
President and founder of Quinn Broadcasting Jim Quinn knew he wanted to reduce his environmental footprint. Jim was also certain installing Solar as an alternative energy source was the right step to take. Solar Energy may have been criticized for being expensive and not very efficient. However solar energy has proven to be extremely beneficial for the environment, therefore it is a worthy investment. "I am proud to work for a company that cares for the environment,"Josh Sooy said. "It sets the bar high for employers in my future" Josh is an intern working in the production department. He is a Senior at Millville High School.
We know that making earth conscious choices daily is a great moral step for ourselves and our company. Each day as we arrive to the office, we are greeted by our enormous radio tower (reaching over 500 feet) and our rows of solar panels. Our building is modest at best, so this large solar investment says a lot about Jim Quinn's Character.